Redrafting with Trello
A polished script, one step at a time.
I finished the second draft of my sitcom pilot! 🥳
I read through it yesterday, and although it's my best attempt at a script yet, there's still a fair bit of redrafting and polishing to do before it's ready to send out to people.
In general, I'm not a big fan of rewriting the whole thing over and over again — I prefer to focus on little pieces and specific problems at a time. So borrowing another idea from software engineering, as I am prone to do, I'm going to try managing my next draft with a Trello board: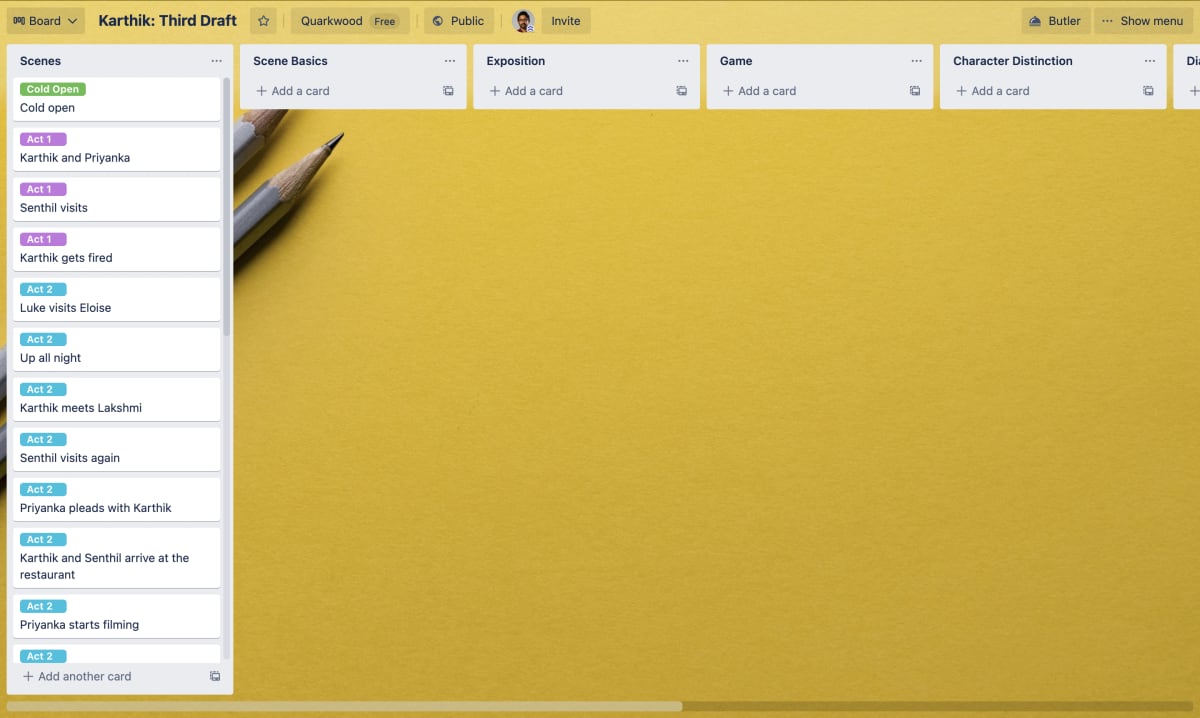 If you've not used Trello before, it's an app that lets you create 'cards' and sort them into columns. Typically, the cards are used to represent some work to be done, and the columns represent stages in a workflow. As you work on a card, you move it through the columns.
In this case, I've created a card for each scene in the script — such as "cold open" or "Karthik and Senthil arrive at the restaurant" — and I've added a column for all the things I'd like to check off for each one, using my sitcom progression framework as inspiration:
Scene basics: e.g. the scene has a clear purpose; the scene has a clear "turn" (e.g. a reveal); the scene has a clear outcome that pushes the story forward.
Exposition: any exposition is hidden away sneakily.
Game: the scene has some kind of game which drives laughs. If it's a purely comic scene, then this game should escalate and finish with a satisfying pay-off.
Character distinction: the characters speak in a way that is unique to them, and behave in a way that is inline with their character traits (i.e. they're not just copies of me).
Dialogue jokes: the characters say funny things on top of the game, in a natural way.
Final polish: e.g. the scene is efficient; the scene starts as late as possible and finishes as early as possible; the action lines and character descriptions are interesting to read.
So basically: I pick up a scene (which I can do in any order), and as I'm redrafting it, I focus on the next column only. I keep going until all the cards are in the "done" column.
Six stages seems like a lot, but most scenes already have at least some of these qualities, which means they don't need to go through the whole flow. On top of this, I'm hoping that by focusing on one scene and one problem at a time, I'll be more efficient overall — and that by the end of the process, I'll have a stronger script than if I just rewrote the whole thing from start to finish six times.
I'll guess we'll have to wait and see! This is an idea I've wanted to try for a while, but I've never got far enough with a project – it only works if you've got a relatively stable draft – so I'm excited to try it out. And if you want to follow along, you can see the board here.